Anti-aging Cream
Removes the Appearance of Fine Lines & Wrinkles
Prevents skin damage and Repairs Damaged Skin
Tightens & Firms Aged Skin
Results visible after just One Treatment
Satisfaction Guaranteed
For all skin types and all ages
Utilizes four factors as cornerstones:
Plexi-Lift ™
Afric-Oil ™
Afri-Plex ™
DMAE Complex
What they are and what they do:
Plexi-Lift ™ is a complex consisting of a synergistic combination of three different highly activated peptides and an amino acid in the correct prescribed therapeutic amounts. They are bio-available and work at cellular level. They reactivate the tired fibroblasts to start producing Laminin, Collagen and Integrin all at once and they change the type and aspect of wrinkles that usually add years to your appearance. Furthermore, they reduce uneven or rough surface texture associated with aged or photo-damaged skin.
Afric-Oil ™ consists of the oils from the seeds of five African Plants or trees, Marula, Baobab, Mongongo (Manketti), Mafura and Kalahari Melon (from the Kalahari Desert).
Why from Africa? These plants and trees grow naturally in arid and desert areas of Southern and East Africa under extreme and harsh conditions. They develop their own defense system against the elements by producing compatible chemicals against drought, heat and UV-radiation. This is included in the extracted oils and act as the bodyguard of the skin. Furthermore, they also contain Vitamins A, D, E, anti-oxidants, oleic acid, palmitic acid and fatty acids such as Omega-6, Omega-9 and other essential fatty acids. They act as moisturizers, improve elasticity, are highly emollient, and protect the skin from harsh elements.
Afri-Plex ™ consists of the extracts of six plants, Aloe ferox, Honeybush, Rooibos and Buchu, all from the Cape Provinces of South Africa and Marula and Kigelia which occur in Central, West, East and South Africa. Why from Africa? All of them grow in soil rich in rare trace elements that are necessary for enzymatic processes in the skin. Africa hosts the most varied and abundant plant life in the whole world. Thousands of plants have been used for hundreds of years by traditional healers of the native tribes of Africa for a variety of ailments. The properties of the various plant species are well documented and a selection of those suitable for use in anti-aging cosmetics could be made.
These plants collectively contain Anti-oxidants, Trace elements, Flavonoids, Isoflavonoids, Polyphenols, Xanthones, Sterols, Iridoids, Vitamin C, Super oxide dismutase, Diosphenols, Pulegones, Terpenes, Amino acids and Polysaccharides. They are Anti-inflammatory, Anti-aging and they alleviate the damage caused by harsh elements such as sun, wind and rain. They protect the body from damage caused by extreme environmental stresses such as UV-radiation, air pollution, ozone, free radicals, cigarette smoke and many more.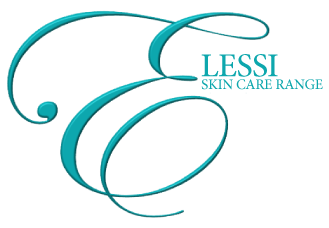 DMAE Complex
Contains DMAE and the dipeptide, L-carnosine. DMAE is the acronym for dimethylaminoethanol and is an anti-oxidant, a cell stabilizer, an anti-inflammatory and it has anti-aging and anti-wrinkle properties. DMAE has been named "the facelift in a jar". As we age our loss of skin tone becomes visible. This is due in part to a decrease in muscle contractions because of the decline of neurotransmitters. The muscles become elongated and relaxed, resulting in a sagging face. DMAE stimulates the muscles under the skin to contract and tighten and then skin tone is regained.
L-carnosine, likewise an anti-oxidant, has the ability to reverse the signs of aging in skin cells (fibroblasts) approaching senescence and to restore the cells to normal appearance and performance and to extend the lifespan of these fibroblasts.
AND
ELESSI Anti-Aging Cream
contains UV-A and UV-B absorbers with an SPF of 15 to protect the skin by diminishing the risk of skin cancer, premature skin aging and other skin damage.
contains a host of moisturizers and emollients that leave the skin feeling soft, silky and smooth. They restore suppleness, tone, color and youthful appearance of the skin by restoring or maintaining the moisture-lipid balance in the epidermis.
contains no perfume but a blend of Aromatherapeutic Essential oils with a fresh, floral, citrus note.
combats and repairs extremely stressed skin as a result of peels, dermabrasion, harsh weather, pollution and excessive dehydration and sun exposure.
No moisturizer is necessary when using ELESSI Anti-Aging Cream.
Directions
Since the cream contains sunscreens (UV-A and UV-B) it would be best to apply the cream in the mornings (after cleansing and toning). The cream can, however, be used as a night cream too, if two applications per day are desired. The cream can be applied to an area (face and/or neck and/or the décolleté) in the same way as any moisturizer or day cream or night cream. Simply apply to an area and gently rub in with circular motions of the fingers. After one week an improvement will be noticed and after about four weeks a vast difference will be observed.